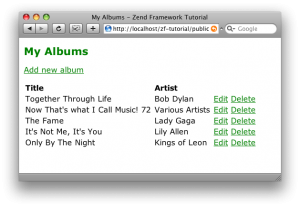 This tutorial is intended to give an introduction to using Zend Framework to write a simple database driven application. It has been extensively rewritten for version 1.8 of the framework and takes full advantage of the Zend_Tool command line script and Zend_Application for bootstrapping. Other components used include Zend_Controller, Zend_View, Zend_Db_Table and Zend_Form.
This tutorial has been tested on versions 1.8 and 1.9 of Zend Framework. It will not work on any version prior to version 1.8.
Tutorial note: If you are getting 404 errors when going to any page other than the home page, please make sure that you have set
AllowOverride
to
All
in your Apache configuration and have enabled the mod_rewrite extension.
If you are deploying to a "user" site (e.g. http://localhost/~rob), then you need a RewriteBase line in your .htaccess file that looks something like: RewriteBase /~rob/zf-tutorial/public/.
English version: Dowload the PDF (v1.6.4).
Code
The associated code is available: