SuccesSQL demo online
This post is part of a series about my experiences building a PHP app for Windows Server 2008 and IIS 7 for the European WinPHP Challenge 2009 which is sponsored by iBuildings, Microsoft and Leaseweb.
The WinPHP challenge comes to an end around now, so I've put up a demo installation of SuccesSQL (v0.01!) at http://test.successql.org. The test site takes a lot longer to display the first page than version running in my VM and I have no idea why!
The source code is released under the New BSD license and is available from my subversion repository.
I expect that this code isn't as secure as it should be and isn't especially well tested either. As such, I highly recommend that you don't use it on important databases or on a public facing web server!
Obligatory screen shot: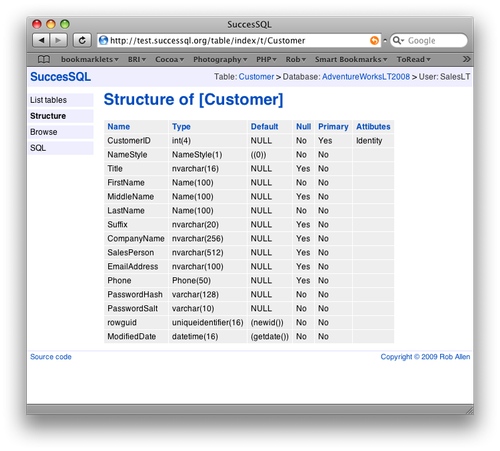 I've still got lots to do though, but there's enough done that I'm using it for work related stuff when I need to look something up, but can't be bothered to wait for the SQL Server Management tool to get around to starting up. In that sense, it's already a success!