Zend Framework: Test Code Upgrade to 0.1.2
I've upgraded my test application to Zend Framework 0.1.2 and these are my notes:
I've changed my directory structure to match the one suggested in the manual. This involved moving a few files around, but nothing to major. I also changed all the paths in index.php to point at the new places.
The new directory structure looks like: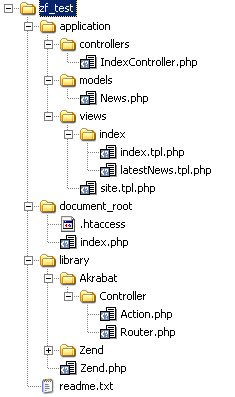 As per the manual suggestion I moved my Akrabat_Action and Akrabat_Router classes to library/Akrabat/Controller/ and so renamed Akrabat_Action to Akrabat_Controller_Action and Akrabat_Router to Akrabat_Controller_Router to match their new locations for zend::loadClass().
I fixed up Akrabat_Controller_Router to use Zend_Controller_Dispatcher_Token.
The $adapterName for Zend_Db::factory() is now 'pdoMysql'.
Obviously IndexController now extends Akrabat_Controller_Action and I renamed all the action functions from xxx() to xxxAction().
And that was it!
This is the latest zip file: zf_test_v3.zip