Speaking at DPC & OSCON
Two conferences are coming up that I'm speaking at: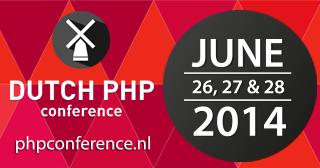 The Dutch PHP Conference takes place in Amsterdam and this year is between June 26th and 28. I'm giving a tutorial with Matthew Weier O'Phinney on Apigility which will provide you with a full day's teaching on creating web APIs with Apigility. I'm also giving a talk called Creating Models discussing the options available when creating the model layer of a typical MVC PHP application.
DPC is a fantastic conference full of great content and people and if you can get to Amsterdam at the end of June, it's well worth your time to attend.

The following month, I'm coming to the US to speak at OSCON which runs from the 20th to 24th July in Portland. OSCON is a massive conference that covers the entire spectrum of Open Source and I'm excited to be presenting Creating Models in the PHP track. There's a lot on the schedule and I expect to learn a lot and meet lots of people from communities that I haven't interacted with much before. I've never been to Portland before, so it'll be interesting to see what the city has to offer too.
If you attend either of these conferences, please come and say hello!